A
Tasmanian satan
has gone toe-to-toe with wildlife keepers after the marsupial mistook a customer's telephone for a chew toy.
Jacqui Frazer was at Bonorong Wildlife Sanctuary on Thursday afternoon when she visited the satan's enclosure for a photograph.
Frazer had leant over the barrier, when the satan jumped up at her, which induced her to drop her iPhone.
It took the wildlife keepers about 5 minutes to get it again, because the animal went out and in of its den.
The keepers ultimately ended up substituting a stick into the satan's mouth for the telephone.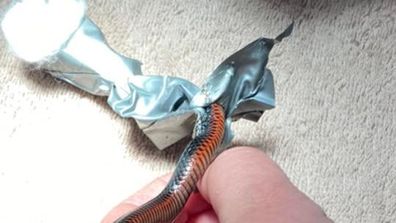 Vet's delicate mission to avoid wasting venomous snake in 'sticky state of affairs'
The telephone has been returned to its rightful proprietor, nevertheless the machine has a number of chunk marks to function a reminder of Frazer's eventful day trip.